We encourage all professionals associated with the automated gate industry to take the Gate Safe training to improve their understanding of the required protocol to ensure a safe and compliant installation (More about Gate Safe training)
Automated Gate Safety: the Facts
Anyone involved in the installation of a powered gate (whether it is a swing or sliding gate, a rising arm barrier, a bi folding or telescopic sliding gate) must ensure it complies with the Machinery Directive 2006/42/EC.
In order to achieve compliance the gate should have undergone a full risk assessment. The complex British Standards are used as a means to identify the various potential risks posed by an automated gate.
A fully automatic gate should feature a minimum of two different types of safety device. Gate Safe advises that photocells / light curtains and pressure edges should be installed on every gate or barrier and would never support the idea that force limitation is an acceptable form of safety when not relying on safety edges
In addition to using the British Standards to guide the Risk Assessment process, Gate Safe provides further additional general recommendations to encourage a holistic approach to best practice in relation to the installation of gates.
This includes guidance on the requirements to ensure the overall mechanical strength / stability of the installation.
You can read a selection of guidance documents from Gate Safe and also from HSE below:
Basic risk assessment for automated gates
Hazards associated with automated gates
Existing vs new compliance
Gate Safe Aware supporter code of conduct
Physical guidelines for automated gates
Rising arm barrier guidance
Gate Safe Aware Installer code of conduct
Read the key HSE guidance here
Risks to pedestrians from crushing zones on electrically powered gates 1
Risks to pedestrians from crushing zones on electrically powered gates 2
Gate Safe has developed a practical guide to provide advice to installers on the role they play in improving automated gate safety.
Browse through any of the tips below, straight from Gate Safe's Technical & Training Advisor, Rob Williams.
ROB'S TOP TIPS
Focus on finger guards

The purpose of a finger guard on an automated gate is to deliver added safety to the device, by restricting potential access (especially by children) between the gate post and the gate itself and reducing the risk of becoming caught between the exposed hinge and the gate.

However, just as an incorrectly sited photocell will fail to offer the desired added safety protection, a poorly fitted finger guard may actually result in creating a trap hazard to the gate. For optimum results, the finger guard should always be protruding outwards. If the protective shield is bulging inwards, the efficacy of the guard is compromised and here is a chance that a finger / hand could still become trapped.

Whilst on the subject of finger guards, it is important to remember that these should always be removed as part of any routine maintenance check to enable the condition of hinges to be thoroughly assessed. Remember hinges should always feature bearings rather than grease which can attract dust and cause operating problems resulting in excessive wear to the hinge pin. Gate Safe is aware of a clear plastic finger guard which obviously offers improved visibility of the condition of any hinges, however, the guard should still be removed at the time of inspection.

ROB'S TOP TIPS
Horizontal photocells

It is generally standard practice to fit photocells vertically, but there are occasions when restrictions on space dictate the need to mount a photocell in a horizontal guise.

A recent site visit to a property in North London revealed an important issue which can potentially arise when wireless photocells are installed horizontally. Vibration can affect the battery casing and the batteries can eventually become dislodged, resulting in a failure in the gate's operating system (the gate should cease to operate if the safety device fails).

On speaking to the manufacturer of the photocell, the following advice has been issued specifically in relation to photocells that are being installed horizontally, to ensure their continued efficient operation:

If permanent power is not an option, adapt the fixing to ensure the battery remains fixed
To prevent any water ingress (more likely in a horizontally installed photocell) apply a small bead of silicone along the exposed join of the photocell


Laser Scanner - An improved approach to the safety of automated gates

ROB'S TOP TIPS
Laser Scanner - An improved approach to the safety of automated gates

As the lead charity associated with raising awareness of the safety considerations in relation to automated gates, Gate Safe is constantly reviewing new technologies and new products which might deliver an improved level of protection to protect against potential injury. We all hope that one day, safety measures for powered gates will have evolved to a level which totally anticipates any risk of an accident.

I recently met with a laser scanner supplier to review the capabilities of a product which projects four laser curtains fields in front or behind a gate or barrier. The laser scanner concept is based on tried and tested technology which has been in existence for over 10 years. If the laser curtain is broken, the gate / barrier will halt and if required, will return. Gate Safe has always maintained that the very best form of safety is when a gate is prevented from touching a person. The laser scanner detection system achieves this, covering a much broader spectrum than a single photo-cell.

For me, the beauty of this device is that each curtain can trigger a different response for the gate / barrier. Example, three curtains can be focused on safety and one can be configured to represent a virtual switch activated when the curtain is interrupted in a certain place.

Some laser versions can be installed to act as a ground loop to enable free exit, whilst also providing an added safety device under the boom. This avoids the expense of running cables underground and the associated disruption of digging up a road, which will is definitely an added-value for the end customer.

The scanner clearly offers some useful 'added extras' and definitely delivers a full safety of the leaf for any automated gate installation, detecting small objects or persons. Other bonuses are that it requires minimal maintenance: you simply need to keep the lens clean. The scanner is rated IP65, operates in extreme temperatures from – 30oC to + 60oC. Any other security features like force or speed limitation are not needed.

The equipment is supplied with a 2-year warranty although the expected life expectancy is close to 20 years. The price point is circa £1200 but be aware that this does not include labour costs to install the device. That said, this is not dissimilar to the cost of pressure edges.

Installation is easy and is carried out using a hand-held programmer but if necessary a support during the installation can be available.

Gate Safe would strongly recommend all installers give this device serious consideration. For more details visit

http://www.bea-industrial.be/en/products/product-range/lzr-i100/

ROB'S TOP TIPS
Mind the gap!


Salford City Council has been fined £20,000 after a six-year-old boy with autism and learning difficulties lost the tips of three fingers when his hand became trapped in a school gate in 2012. The incident occurred because there had been a failure to fit a guard over the gate hinges, despite the fact that the risk assessment on the gate had revealed that staff needed to be vigilant and supervise children through the gates. The gap in question reduced from 8mm to nothing … Gate Safe speculates that there are many other gates in operation within a school environment that also feature gaps that reduce enough to represent a significant risk. So our advice to everyone is check those gaps!

However, the blame cannot simply be placed on the school. I did a survey at another school last week and identified an automatic gate that was decidedly unsafe. The school was under the impression that they had been supplied a "new" gate but in reality it was second hand! It would seem that purchasers not only need to spell out that they want a CE marked gate, they also want a newly manufactured one!

Regular maintenance is critical to ensure a safe and compliant automated gate. Most gates should be maintained a minimum of every six months (more frequently for gates which are exposed to exceptionally heavy usage) by a Gate Safe Aware installer who has undergone the requisite specialist training to demonstrate the necessary skills and knowledge to appreciate the requirements of a safe automated gate installation.

Power outage? Problem sorted…

ROB'S TOP TIPS
Power outage? Problem sorted!

Here's a simple yet highly effective response to dealing with the frustrating (and possibly dangerous) problem associated with manually releasing an automatic gate in the event of a power cut.

Rather than waste precious time trying to find the manual release keys / key holder, why not supply a neat key safe which contains the keys with every gate sold? The safe can be installed on the post or adjacent to the post and all gate users should be notified of the safe code. That way they will have instant access to the release key if the power fails.

Check those safety edges…

ROB'S TOP TIPS
Check those safety edges

Gate Safe has received information claiming that in certain circumstances the effectiveness of safety edges can be compromised as a result of a fault between the safety edge controller and the gate controller, resulting in the loss of the safety function.

Let's keep it simple, all edges should be checked weekly to ensure that they are working. There is no need for a weekly engineer visit, simply position something in front of the various edges when the gate is operating and make sure that the gate stops and backs off when it comes into contact with the object.

Taking the time out do this on a weekly basis will ensure you have a safe gate!

ROB'S TOP TIPS
MAINTENANCE MATTERS ….

Regular maintenance is critical to ensure a safe and compliant automated gate. Most gates should be maintained a minimum of every six months (more frequently for gates which are exposed to exceptionally heavy usage) by a Gate Safe Aware installer who has undergone the requisite specialist training to demonstrate the necessary skills and knowledge to appreciate the requirements of a safe automated gate installation.

Just as you need to keep an eye on how a car is running in between formal services, anyone who has responsibility for an automated gate must be prepared to review the condition of the gate on a regular basis, outside of the biannual services.

Here is a simple checklist detailing the important factors influencing the safety of an automated gate – we recommend that these checks should be made formally on a monthly basis. However, we would also encourage anyone that uses the gate to keep an eye out for any signs of damage / excessive wear and tear.

• Are the photocells clean and clear of any debris which could hinder their ability to track a moving object? Excessive plant growth, litter, leaves, even snow can seriously compromise the efficiency of a photocell?

• Are the photocells operating correctly on an opening and closing cycle?

• Are the hinges of the gate able to move with ease? Consider whether there is a need to lubricate the hinges or any other moving parts / does the gate move freely when operating?

• Are there any visible signs of wear and tear? This would include any deterioration in the rubber that features on the safety pressure edges or hinge protectors?

• Is the control box still intact? No loose wires? No obvious signs of any ingress of dust / water?

• Is the warning sign on the gate still legible? If fitted, is the warning light / audible signal in working order?

• Are you able to release the gate manually? Is the manual release key easy to access?

If you are unsure of any of the above requirements, please contact your nearest Gate Safe Aware installer, find them

HERE

ROB'S TOP TIPS
DO I NEED AN EMERGENCY STOP BUTTON?



Many people ask if an emergency stop button is mandatory on an automated gate system.

The Machinery Directive states that an emergency button should be fitted.

BUT this is pertinent to a machine shop type of equipment such as a lathe or pillar drill which only operates in one direction.

See excerpt below from the Directive:

1.2.4.3. Emergency stopMachinery must be fitted with one or more emergency stop devices to enable actual or impending danger to be averted.The following exceptions apply:— machinery in which an emergency stop device would not lessen the risk, either because it would not reduce the stopping time or because it would not enablethe special measures required to deal with the risk to be taken,

Gate Safe believes that in normal situations the fitting of a stop button is not appropriate.

Why?

Consider the unfortunate scenario of someone being trapped in an automatic gate. In this instance, the activation of the emergency stop would disable the system but not help release the victim. The gate would be stopped from moving if a further open or close signal was received, or indeed if any safety circuits were activated intended to move the gate away.

Therefore, activating an emergency stop button could potentially trap someone, as it would stop the gate from moving away and releasing pressure on the victim.

Such devices should only be used if it is possible to move the gate with ease when the motor is not running (non-locking motors, for example) or the stop control also reverts the gate a few centimetres.

Even then they may create a security risk if they have been activated in error or as a result of an act of malice.

Always remember to carry out a residual risk assessment when fitting any equipment and consider all the various scenarios that could lead to an accident!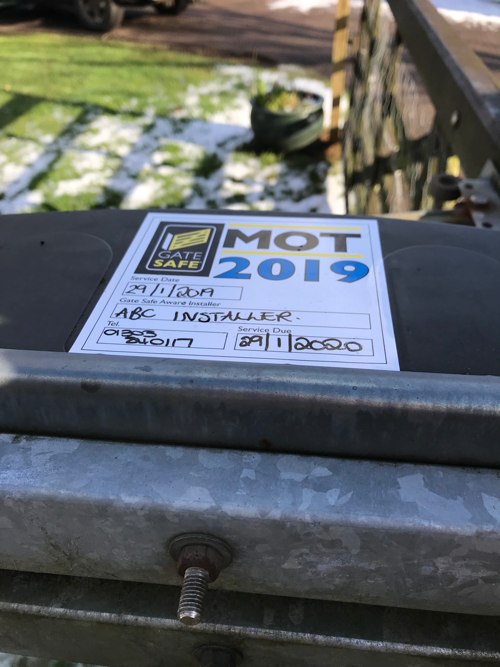 To the untrained eye, there is no difference in the appearance of a safe or unsafe gate. The Gate Safe MOT provides a clear visual reference to indicate that a gate has been installed / maintained in line with best industry practice. Only Gate Safe installers are eligible to fit the Gate Safe MOT and the benefits include:

Setting your business apart from the competition by demonstrating best practice and an over-riding commitment to the safety of any automated gate installation installed / maintained by your company
The MOT needs to be renewed on a maximum of an annual basis maximum, so the scheme will help to boost customer loyalty and retention – no gate owner will be keen to have a gate which has a clear reference to the fact that the regular service has been overlooked
The MOT offers a natural branding exercise for your business, providing a clear reference to your company to anyone that uses the gate

More details on the Gate Safe MOT can be found in the Members area.
The Gate Safe Visualiser is an online, interactive, visual guide or checklist for those involved in:


Gate specification
Gate design
Gate installation
It is designed to navigate you through nine easy steps to help specify, design and install automated gates to the latest safety standards.
In addition, the Visualiser provides guidance to the end user as to what they can expect from their automated gate.
Find out more about the Gate Safe Visualiser here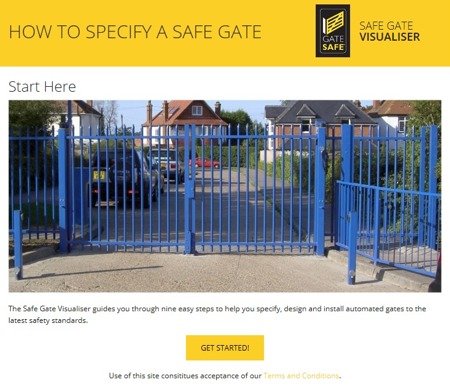 What is a Premier Installer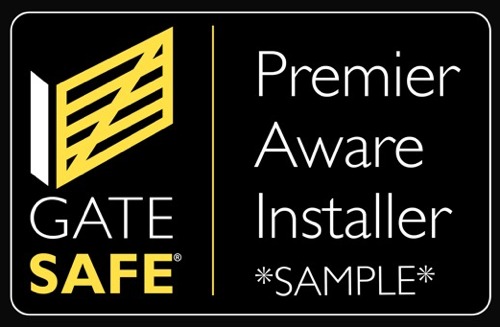 Gate Safe introduced Premier Installer membership specifically for larger installer companies, to ensure that Gate Safe best practice was instilled in a significant proportion of the installer work force.

A company which boasts Premier Installer membership is required to have invested in training a minimum of 80% of its employees who are actively involved in the supply / fitting of automated gates.

Premier Installers have an enhanced entry on our postcode map and A-Z search facilities.
The Hub is a CRM online tool which has been specifically designed by Gate Safe to improve the running of a gate and barrier installation business.
Click here for our Hub page