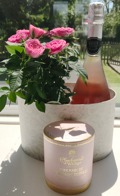 Amanda Davies contacted our helpline to find out if the automated gates on the new residential development where she lived were safe. After reviewing the site, Gate Safe was able to advise that currently the gates were not in fact safe and provided a letter of authority which the homeowner could present to the developer.
The result was a saving of £2,000 for the residents of the development who would have had to pay for the upgrades themselves had Gate Safe not stepped in. But more importantly, a safer pair of gates and peace of mind for all concerned.
Thank you to Amanda for her kind words, effusive thanks and gifts – it made our day!